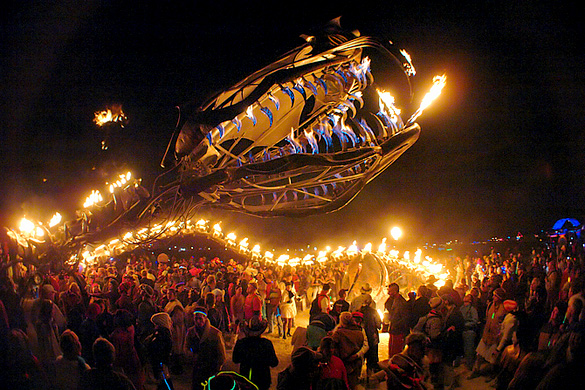 Any description of the Serpent Mother pales in contrast to experiencing this massive burning work of art that includes welding, plumbing, hydraulics, flame effects, electronics, and interactive controls.
A visitor can, for example, be in the center of this coiled skeleton and push buttons that blow out huge flames from its spine, and even open the serpent's central egg. And 1,700 liters of liquid propane gas is consumed each evening at Burning Man.
Yet, what is also amazing is that the builders, the Flaming Lotus Girls, are a loose organization of women who built it, many who have never welded nor did any electronics before.
Let's take a look at some of the technical details of this sculpture:
---
Video
Brought to you by Madnomad Films. A short documentary about the Flaming Lotus Girls, the hottest artists from the Burning Man festival. This film and will show you what it takes to build an art piece in the Black Rock Desert. madnomadfilms.com
---
Relevant External Links