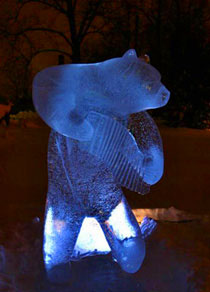 Ice bear playing his ice accordian, "Elämää Suomalaismetisissä" or "Live in Finnish Forests," Helsinki, Finland 2004. Sculpted by Paavo Koberg and Tuomo Ylitalo.
Photo credit: Pasi Laaksonsen
Tiikoni
What comes to mind when you think of ice sculpture? Have you seen glistening swans gliding along an extravagant wedding buffet? A company logo melting at a business banquet? Maybe what comes to mind is an ice hotel somewhere in Sweden? Culinary ice carving can be exquisite. However, ice, as an art form, has a robust and fantastic life that extends beyond these mostly indoor venues. Artists in the northern reaches of the planet use natural ice as an expressive art medium. Throughout the world annual competitions, celebrations of solstice, and exhibitions all bring excellent artists into the freezing weather to show their carving skills.
Melissa Chaplin, from Ice Alaska says, "In Fairbanks, winter comes early and normally stays late. That's why it's not uncommon to hear people describe the four seasons in Alaska as early winter, winter, late winter and next winter." Where temperatures regularly drop and stay below zero, ice is a natural medium to explore. It has proved to be a good winter diversion for hearty souls with a love of the translucent stuff and a good pair of warm gloves. Ice sculpting is one of winter's upsides, and yields some magical results. …more